British Programme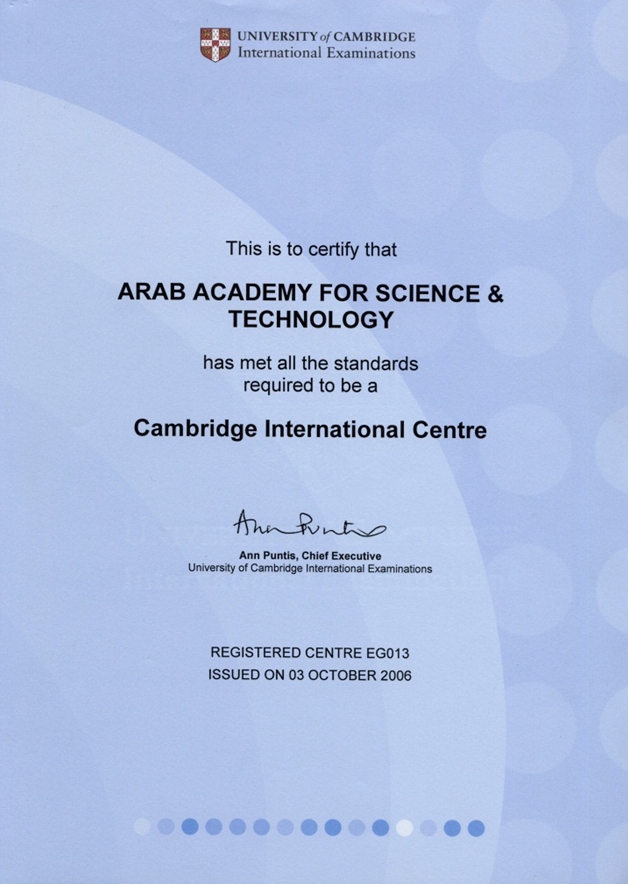 The Arab Academy's IEP has been certified as a Cambridge International Examination Centre EG013 since October 2006. Each year the centre runs two exam series; May/June and October/November. The centre offers exams for the following qualifications:
Cambridge Checkpoint,


Cambridge International General Certificate of Secondary Education (Core & Extended),

Cambridge International AS Level,

Cambridge International A Level.
The periodic inspection by Cambridge Examination Unit states that the centre is "completely satisfactory". This proves that we comply with the standards and regulations set by Cambridge to ensure that "candidates all over the world have the same exam experience and are treated equally and fairly."

---
---
American Program
American Program (ADP) was accredited by Commission on International and Trans-Regional Accreditation Organization (CITA), followed by an accreditation from AdvancED.
ADP is accredited and authorized by College Board to supervise and administrate the SAT exams as of May 2011. As an SAT test center, ADP is entitled to serve the community by accommodating outside students.
ADP was also authorized to accommodate Students with disabilities (SSD) as of January 2012.
ADP was re-accredited with Excellence by AdvancED in 2013.
ADP's curriculum is acknowledged by National Collegiate Athletic Association (NCAA).
The National Collegiate Athletic Association (NCAA) is a non-profit association which regulates athletes of 1,281 institutions, conferences, organizations, and individuals.
ADP is quality controlled by ISO 9001/2008 since August 2014.